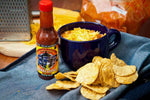 If you're looking for the easiest way to feed a crowd, then the crockpot is always the way to go.
And, slow-cooked chicken chili is one of the biggest crowd-pleasers. Add some Mad Dog to the mix, and you've got a home run. This recipe is super easy, super delicious – and it'll be ready for you when you return from work. Just make sure you've got your toppings ready before you walk in the door because you'll need a bite as soon as you smell it. Don't believe us? Just try it out, you'll see what we mean.
And a bonus? Well, this recipe can be made without adding Mad Dog to the mix (in case you've got kids to feed). But make sure you've got plenty of the original Mad Dog 357 Hot Sauce to add to your bowl.
This chicken chili is made to be best friends with this sauce.
Ingredients
1 med Onion, chopped
2 cans (16 oz.) Beans, partially drained (choose your favorites: black, pinto or kidney)
2 cans (14.5 oz.) Chopped tomatoes (with or without chilies)
1 can (8 oz.) Tomato sauce
10 oz. Frozen corn
2 tsp. Cumin
2 tbsp. Mad Dog 357 Hot Sauce, to taste (of course)
4-6 each Chicken breasts (depending on how meaty you want your chili)
Sour cream, shredded cheese or nacho chips to serve
Preparation
Add everything to your crockpot, except the chicken, and stir well to combine. Feel free to give it a bit of taste for heat now, as you won't have a chance for hours after adding the chicken. Lay your chicken pieces on top of this mixture.
Cook on high for 5-6 hours or on the low/auto setting for 8-10 hours. 30 minutes to an hour before serving, remove the chicken and shred with forks. (If you do plan to touch it with your hands, ensure you're wearing gloves.) Stir the shredded chicken back in until serving.