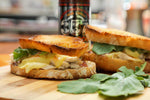 There is no reason not to fall in love with this sandwich.
Besides the oozy, silly delicious fontina, it has the bite of a Mad Dog mixed with the tang of leftover cranberry relish (or maybe you call it cranberry dressing… it all depends on where you live, doesn't it).
We know this seems rather labor-intensive at first glance, but that's only if you don't have a panini press. If you happen to have one of those, you can whip up the full batch rather quickly and have them wrapped and ready to take into the office in no time at all.
That is, of course, if they'll last until you get to the office. These are sort of perfect for wrapping in foil and chowing in your car as you move from one Christmas sale to the next. Why not? The melty cheese is terrific for as long as you can keep it warm (think insulated lunch bag and foil) – and the Mad Dog Silver Collector's Edition adds just the zing you need to propel you through the traffic. Despite its heat, it'll help you keep your cool while battling sales-crazy shoppers and super long lines.
It sounds like a miracle sandwich, doesn't it?
We think it is.
Ingredients
¼-½ teaspoon Mad Dog 357 Silver Collector's Edition
½ cup Cranberry relish
8 slices Ciabatta
6 ounces Fontina cheese, thinly sliced
8 ounces leftover turkey, sliced
1 cup Arugula
Olive oil, for brushing
Preparation
In a small bowl combine the Mad Dog 357 Silver Collector's Edition and cranberry relish. Start with just a drop and work your way up to be on the safe side, tasting as you go. Set aside. For each sandwich, layout 1 slice of bread and divide half the cheese between them. Top the cheese with turkey slices, 2 tablespoons of the Mad Dog cranberry relish, the arugula leaves, and the remaining cheese. Top with the remaining bread slices. Repeat with the remaining ingredients. Brush the tops of the sandwiches with olive oil.
Heat a large (non-stick) skillet over medium heat. Place the sandwiches, oiled-side down, in the pan, then place a small heavy pan, or aluminum foil-wrapped brick on top of the sandwich to press it down. Cook until bread is golden, and cheese is beginning to melt. It should take about 5 minutes, but keep an eye on it. Remove the heavy pan or brick, brush the top with oil and flip the sandwich. Replace the heavy pan or brick and cook until the bottom crisp, cheese is melted, and sandwiches are heated through – as much as 5 minutes more. Remove from the pan and cover to keep warm while cooking the remaining sandwiches.