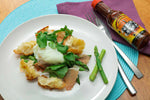 You should always take a moment to spoil your mom with breakfast on Mother's Day.
Seriously, she appreciates that – and she'll go absolutely crazy for this decadent breakfast. Don't worry, the recipe serves four, so you can enjoy a scrumptious meal in the kitchen while she dines in bed.
Whatever you do, don't skip the Mad Dog; it's absolutely key.
Ingredients
1 tablespoon Vinegar
pinch salt
4 each Egg
Ciabatta, torn into large chunks
¼ cup Olive oil
1 bunch Asparagus, blanched
8 slices Prosciutto
handful Arugula, for serving
Mad Dog 357 Hot Sauce
Preparation
Fill a wide saucepan with water and allow it to simmer. Add the vinegar and salt and give it a stir. One at a time, break each egg into a small bowl or cup and then gently tip it into the simmering water. Cook until yolks are soft and remove with a slotted spoon. Toss the Ciabatta with the olive oil and toast in a hot pan over high heat until crisp. Divide asparagus among serving plates. Top with an egg, torn pieces of Prosciutto, the toasted bread chunks, arugula, and add a few drops Mad Dog 357 Hot Sauce to the mix (along with some salt and pepper, if desired). Bring a plate to mom before tucking in yourself.