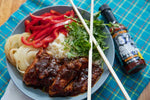 This is an amazingly simple and wildly delicious version of the Japanese BBQ dishes that you'll find all over music festivals.
It's also super fast to whip up and serves four people.
What's the catch? Well, there isn't one. And, we've even added super hot Mad Dog 357 Ghost Pepper Hot Sauce to the mix so you don't have to scramble for heat later.
Just one tip though, you want to assemble everything upfront (and perhaps even mix where you can) as this recipe moves really fast once you start going!
Now, enjoy it!
Ingredients
1 each Onion, sliced in rounds, left together
1 each Red bell pepper, sliced
2 tablespoons oil, divided
2 tablespoons butter, divided
14 ounces Sirloin steak, trimmed of excess fat
½-1 teaspoon Mad Dog 357 Ghost Pepper Hot Sauce
4 tablespoons Ketchup
2 tablespoons Worcestershire sauce
2 tablespoons Water
2 tablespoons fresh parsley, chopped
2 cups Rice (your preference), uncooked
Salt and pepper, to taste
Watercress or bean sprouts, for garnish
Preparation
Cook the rice according to package instructions and set aside.
Heat 1 tablespoon of the oil in a frying pan and cook the onion (slices still stuck together) over medium heat until golden on both sides, adding salt and pepper, to taste. Remove the onion from the pan and set aside.
Add 1 tablespoon of oil and 1 tablespoon of butter to the pan and reduce the heat to low. Cook the steak until browned on both sides, then cut into bite-sized pieces and set aside.
TIP: If you prefer your steak more well done, cook over medium heat for up to 2 minutes aside.
Meanwhile, combine the Mad Dog 357 Ghost Pepper Hot Sauce with the ketchup, Worcestershire sauce, and water. Stir well. When you remove the steaks, pour this sauce into the pan. Turn heat up to medium and cook for 1 minute, whisking almost continuously and mixing in the meat residues.
Combine the remaining butter and the parsley and stir into the cooked rice, then divide between serving bowls. Then, top with the steak, pepper, onion, and pour over the sauce and finally, throw over the watercress.