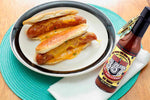 Okay, we know that a recipe can't make the world a better place.
Or, can it? This recipe will certainly make your day better. How could it not? Mad Dog, cheese…
It serves four, if you can share.
Ingredients
4 each Hot dog buns
1-2 teaspoons Mad Dog 357 Gold Edition Hot Sauce
2 tablespoons Butter, softened
¼ teaspoon Garlic powder
¼ teaspoon Onion powder
4 each Hot dogs (the best quality you can get)
3 cups Cheddar cheese, shredded
handful Green onions, sliced, for garnish
Preparation
Flatten the buns with a rolling pin and set aside.
In a small bowl mix the Mad Dog 357 Gold Edition Hot Sauce with the butter and the garlic and onion powders together. Spread this mix across the bottom of the buns.
Sear the hot dogs in a large skillet over medium heat until just charred (about 2 minutes per side). Remove from the pan and set aside.
Place the buns (buttered-side down) in the skillet. (Only do as many as you can fit in the skillet.) Top with a half cup of cheddar. Then, put a hot dog on top and sprinkle over more cheddar and some green onions.
Cover the skillet with a lid to let the cheese melt, then press the buns closed with a spatula. Repeat with the remaining dogs.