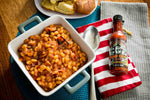 Need a super easy side dish for the barbeque?
These Blistering Baked Beans are sure to become an instant hit. They're sort of like Southern beans but with a kick, you can't ignore. You'll never just open a tin of beans again. Really! This recipe will serve anywhere between four and eight people… depending on what else you're making.
Enjoy!
 Ingredients
1-2 drops Mad Dog Silver Collector's Edition
1 each Onion, diced
2 (16 oz.) cans Baked beans (such as pork and beans)
3 tablespoons Mustard
1/4 cup Maple syrup
1/4 cup Ketchup
1 tablespoon Lemon juice
1/2 pound bacon strips, cut into pieces
Preparation
Preheat oven to 350ºF. In a casserole dish or deep baking sheet, mix the Mad Dog Silver Collector's Edition hot sauce with the remaining ingredients. Bake, covered, for about 30 minutes. Then, remove the lid or foil and cook for an additional 15-20 minutes. Serve hot!