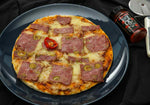 May the 4th be with you if you're planning to indulge in this pizza tonight – or any night.
It's deliciously hot (and we suggest adding even more hot sauce if you can handle it). This makes enough for a large pizza – or a couple of small ones if you buy smaller pizza bases. Of course, we suggest it for any Star Wars themed party.
We're definitely not relegating it to one night a week.
Ingredients
Pepperoni slices, shaped into squares
1 each Pizza base (homemade or store-bought)
1 cup Mozzarella cheese, shredded
For the sauce
2 tablespoons Olive oil
1 small Onion, minced
1 clove Garlic, minced
1 can (28 oz.) Whole peeled tomatoes, in juice
½ teaspoon Mad Dog 357 Carolina Reaper Pepper Puree
3 leaves fresh basil
1 teaspoon dried oregano
pinch salt and black pepper
pinch sugar, optional
Preparation
Preheat your oven to 350ºF or according to the temp provided on your pizza base packaging.
Prepare your sauce by heating the olive oil in a saucepan over medium heat. Add the onions. Sauté until translucent and then stir in the garlic. Cook for 30 seconds, or until fragrant. Add the tomatoes, stir to combine, and bring to a simmer. Add Mad Dog 357 Carolina Reaper Pepper Puree and season with the remaining ingredients. Reduce the heat and simmer, stirring often for at least 15 minutes. Mash with a potato masher or puree in the blender, if a smoother sauce is desired.
Create the pizzas by spreading the sauce on the bases, top with cheese and then arrange square pepperoni slices using the Death Star design as a guide. Bake in the oven according to the pizza base packaging. Remove from the oven, slice, serve, and enjoy.