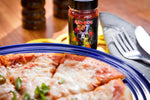 The secret to brilliant pizza is the sauce, isn't it?
If you've ever believed differently, this recipe is going to change your mind. The sauce is, well, sensational. And yes, it is hotter than you thought it would be. That's the new Reaper Pepper Puree at work. But, it will make you happy. Really happy. Just give it a try; you'll see. The recipe will make enough for 2-3 personal pizzas…
But then again, when it's all about the sauce, it's difficult to say.
Ingredients
For the Sauce
2 tablespoons Olive oil
1 small Onion, minced
1 clove Garlic, minced
1 can (28 oz.) Whole peeled tomatoes, in juice
1 dash to ¼ teaspoon Mad Dog 357 Carolina Reaper Pepper Puree
3 leaves fresh basil
1 teaspoon dried oregano
pinch salt and black pepper
pinch sugar, optional
You'll Also Need
Pizza crusts
Mozzarella cheese, shredded
Your favorite toppings
Preparation
Pre-heat your oven to the temperature provided on the packaging for the pizza bases.
Then, prepare your sauce. Add the olive oil to a saucepot over medium heat. Add the onions and sauté until slightly translucent. Add the garlic and sauté about a minute until golden. Quickly add the tomatoes to the mix. Stir well and bring to a simmer. Add Mad Dog 357 Carolina Reaper Pepper Puree then season with salt and pepper, to taste, and add the fresh basil and oregano. You can add a touch of sugar if desired or if tomatoes are tart. Simmer on low, stirring often for at least 15 minutes. Once cool puree with a blender.
To create your pizzas, simply spread the sauce on the bases, top with the cheese, and sprinkle on any toppings you prefer. Bake in the oven according to the pizza base packaging. Remove from the oven, slice, and serve… with a serious warning about the potency of the Carolina Reaper Pepper Puree.