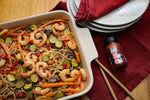 We thought we'd celebrate with this spaghetti recipe, though you could substitute your favorite Asian noodles instead.
What shouldn't be substituted at any cost is the Mad Dog 357 Naga Morich Pepper Puree, it imparts all the right flavors and the extreme heat that makes this noodle recipe for 4 everything it is.
While you could add just about anything to the noodles and Naga Morich sauce, but we're completely sold on the shrimp and vegetables we've used here
So much so that we gobbled this up faster than just about anything.
Ingredients
1 tablespoon Mad Dog 357 Naga Morich Pepper Puree
3 cloves Garlic, minced
1 tablespoon ginger, freshly grated
2 tablespoons Brown sugar
1/3 cup Soy sauce
1 tablespoon Oyster sauce
1 teaspoon Sesame oil
For the noodles
½ pound Spaghetti
1 tablespoon Olive oil
¾ pound Medium shrimp or prawns, peeled and deveined
½ pound Mushrooms, sliced
1 Red bell pepper, diced
2 small zucchini, diced
1 large Carrot, grated
2 tablespoons fresh cilantro, chopped, for garnish
 Preparation
 In a small bowl, combine the Mad Dog 357 Naga Morich Pepper Puree with the remaining ingredients and stir to combine. Set aside.
Cook the spaghetti according to package instructions, then drain and set aside.
Meanwhile, heat the oil in a large skillet over medium-high heat. Add the shrimp along with 2 tablespoons of the Naga Morich sauce and cook, stirring occasionally, for 2-3 minutes, until the shrimp are pink.
Transfer the shrimp to a plate, then add the vegetables to the skillet. Cook for 4-5 minutes, until the vegetables are soft. Then, return the shrimp to the skillet along with the spaghetti, and the remaining Naga Morich sauce. Continue cooking while you stir to combine all the ingredients.
Serve, divided between bowls with a sprinkling of cilantro.