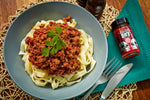 Time for a new twist on an old classic!
If you've been patiently waiting for Mad Dog to transform your favorite comfort food, that moment is finally here. And this is something you want to try; it will leave you craving spaghetti all the time. Seriously. We've made this Bolognese recipe from scratch, so it's not as fast as pouring it out of a jar.
But, this recipe for six is worth it… totally worth it.
Ingredients
1 tablespoon Olive oil
1 Onion, chopped
1 stalk Celery, chopped
3 cloves Garlic, minced
1 lb. Ground beef
½ teaspoon Mad Dog 357 Naga Morich Pepper Puree
1 (28 oz.) can crushed tomatoes
1 (6 oz.) can Tomato paste
½ cup Dry red wine
1 teaspoon dried oregano
1 teaspoon dried basil
½ teaspoon salt
¼ teaspoon black pepper
2 bay leaves
Fresh basil, chopped as garnish
Spaghetti or fettuccine, to serve (prepared according to package instructions)
Preparation
Drizzle olive oil in a large saucepan over medium-high heat and saute onion, celery, and garlic until fragrant, about 3 minutes. Add beef and cook until crumbled and brown, draining excess liquid as necessary.
Add Mad Dog 357 Naga Morich Pepper Puree, remaining ingredients and bring to a boil then reduce heat and simmer for about 30 minutes. Top pasta with the Bolognese sauce, serve and enjoy!