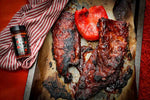 Listen, if you're going to have a Halloween party, this is the recipe you want to serve.
Not only does it have a grisly appearance, but the heat of the Mad Dog 357 Reaper Pepper Puree is also bound to shock anyone who sees it.
Don't believe it? Just take a look!
Ingredients
For the rub and ribs
1½ teaspoon Smoked paprika
1 teaspoon ground cumin
½ teaspoon Cayenne pepper
½ teaspoon Brown sugar
¼ teaspoon Ground allspice
2 racks of pork ribs
Spray oil
For the Mad Dog basting sauce

1½ tablespoons Mad Dog 357 Reaper Pepper Puree
1 tablespoon Olive oil
2 tablespoons Honey
½ Orange, juiced
1 clove Garlic, crushed
To set the scene
1 Red bell pepper
a drizzle of olive oil
Preparation
In a small bowl, combine the spices for the rib rub and rub this into the ribs. Spray the bottom of a roasting pan with the spray oil, then place the ribs snuggly inside. Cover with a double layer of foil and place in the fridge. Chill for at least 2 hours, though overnight is better.
Preheat your oven to 325°F. Place the ribs in the roasting pan in the oven and roast for 2 hours, or until the ribs are tender.
Meanwhile, combine the Mad Dog 357 Reaper Pepper Puree with the other ingredients for the basting sauce.
When the ribs are tender, turn the oven temperature to 400°F, remove the pan from the oven, remove the foil and baste the ribs with a coating of the Mad Dog basting sauce. Toss the red pepper with a little olive oil and place it in a corner of the roasting pan. Return the pan to the oven and roast for another 10 minutes.
Remove the roasting pan from the oven. Baste the ribs again. If the red pepper is beginning to blister, transfer it to a plastic bag, close, and set aside. If it hasn't begun to blister, keep it in the roasting pan and return it to the oven with the ribs until it does blister, then place it in a plastic bag.
Roast the ribs for another 2 minutes, then baste and repeat until the Mad Dog basting sauce is exhausted.
To serve, remove the red pepper from the plastic bag and peel the skin and remove the stem. Place between the two rib racks on a wooden board and plenty of your favorite Mad Dog hot sauce on the side.