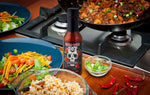 Africa meets Asia in this recipe. Sure, it's based on General Tso's chicken
We added in some Mad Dog 357 Sriracha Hot Sauce  to give this dish an entirely new flavor. The result is something you don't want to miss. Now, we know it looks like an intense recipe, but it's really rather easy and it will get dinner for four on the table in minutes. We recommend serving it up with a healthy dose of stir-fried veggies (you can do that before you get going on this part of supper), but it also works well with a cooling salad on the side. The choice is yours.
And before you know it, you'll be craving this recipe like crazy

Ingredients
1-2 tablespoons Mad Dog 357 Sriracha Hot Sauce 
1/4 cup Soy sauce
1/4 cup Pineapple juice
1/4 cup Red wine vinegar
1/4 cup Brown sugar
2 cloves Garlic, minced
3 tablespoon Cornstarch
1 large Egg, beaten
1 pound chicken meat, diced
Oil for deep frying
4 each Dry, whole red peppers (perhaps some African Bird's Eye Chilies?)
2 tablespoons cornstarch mixed with 3 tablespoons Water
4-5 stalks Green onions, sliced
Preparation
In a mixing jug or bowl, whisk together the Mad Dog 357 Sriracha Hot Sauce , soy sauce, pineapple juice, vinegar, sugar, and garlic. Combine well and set aside.

In another mixing bowl, beat 3 tablespoons of Cornstarch with the egg. Mix as well as you can, incorporating all that good cornstarch (that's what gives it the Chinese takeout flavor). Add the chicken to this mix, stir to coat.

Heat enough oil in your wok to coat it and all the chicken at once. You'll need to turn the heat up pretty high on this – to get perfectly crispy chicken, you need really hot oil. When it's super hot and bubbling, carefully add the coated chicken pieces to the wok. And stir with a wooden spoon to ensure the chicken pieces cook evenly. Just a note, adding anything to hot oil can cause the oil to snap and jump; please be careful. Oh, and feel free to add any of the leftover egg and cornstarch batter to the wok; there's no reason to waste it.

When the chicken is cooked through and crispy, remove it from your wok, along with most of the oil. Drain the chicken on paper towels. Add the dried chilies to the pan and cook for about 30 seconds before adding the Mad Dog 357 Sriracha Hot Sauce  mix. Stir to dissolve the sugar. Then, add the cornstarch mixed with water to thicken the sauce. As it begins to reduce, return the chicken to the pan along with about half of the green onions. When the chicken and the chilies are evenly coated with the sauce, remove from the heat, sprinkle over the remaining green onions, and serve with rice or noodles and stir-fried veggies.