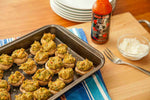 Stuffed mushrooms have to be one of the tastiest, classic party foods.
They're ridiculously filling and addictive. They're even better when you add a dash of Mad Dog 357 Reaper Sriracha hot sauce. Truly, these stuffed mushrooms will blow you away – and they'll light your mouth on fire. What more could you want from a snack food? Ease of preparation? Oh yeah, these are easy and super quick too.
This recipe can be doubled – or tripled – depending on the crowd you need to feed. Also, we've used our Reaper Sriracha sauce to spice up these babies. If you've got another favorite, we suggest adding a clove of minced garlic to the mix.
It's yum either way. Promise.
Ingredients 
12-15 oz. Button mushrooms
½ medium Onion, minced (or several stalks of green onions)
¼ cup Breadcrumbs
2 tablespoons Parsley, finely chopped
1 tablespoon Thyme, finely chopped (or another favorite herb, such as rosemary)
1-2 tablespoons Olive oil
½ teaspoon Salt
1-2 teaspoons Mad Dog 357 Reaper Sriracha Hot Sauce
sprinkling of parmesan
NOTE: This recipe is even easier if you have a food processor. Instead of chopping and mincing, add everything except the mushroom caps and parmesan. It's still best to read the instructions before beginning your preparation.
 Preparation
 Prepare your mushrooms by washing and drying them. Remove the stems at the core. Trim the removed stems of hardened bits and discard these (keep the good parts). Set the mushroom heads on a baking tray. Preheat your oven grill.
Finely chop the reserved stems and place them in a mixing bowl. Add the onion, breadcrumbs, herbs, olive oil, and salt. Stir to combine. Add a teaspoon Mad Dog 357 Reaper Sriracha Hot Sauce and stir to combine. Taste, and add more hot sauce, as desired.
Scoop breadcrumb filling into mushroom caps, sprinkle with parmesan. Grill for about 5-8 minutes in the oven, remove and serve hot with your standard Mad Dog warning!