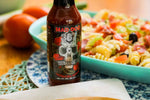 Ready for the fastest, easiest, most-mind-blowingly-hottest pasta salad in the whole world?
We started with a few favorite pizza toppings and went to town with heat through our Mad Dog 357 Reaper Sriracha. You'll be screaming hell yeah just as soon as you stop shoveling spoonful's into your mouth. Okay, shoveling is a bit of an overstatement; the heat spreads through this salad swiftly… you'll gingerly open your mouth for every bite.
But you'll keep doing it.

Serves: 6-8 as a side
You'll need:
12 ounces spiral pasta, cooked, drained and cooled
4 ounces pepperoni, sliced
6 ounces black olives, drained
8 ounces mozzarella cheese, shredded
2 green onions, sliced
2 tomatoes, diced
1 teaspoon Mad Dog 357 Reaper Sriracha Hot Sauce
1 cup Italian dressing
Preparation
Simply gather together your Mad Dog 357 Reaper Sriracha Hot Sauce and all other ingredients. Mix together in a bowl and serve.