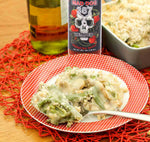 Okay, okay… we know there are a lot of steps in this recipe.
But they're worth it. Absolutely everything is cooked the way it's supposed to be. And adding the red, the Mad Dog 357 Reaper Sriracha that is, adds a kick that tempts even those Christmas guests that don't like it too hot. If you were to serve it as a side dish on a regular day, it would serve six.
But, we're certain it will stretch a little further at your holiday feasts.
Ingredients
Cooking spray
4 medium Shallots, in their skins
1 pound Green beans, topped, tailed, and halved
1 tablespoon Olive oil
8 ounces Mushrooms, sliced (about 4 cups)
Kosher salt, to taste
½ bottle Mad Dog 357 Sriracha Hot Sauce (or a few teaspoons of your fav Mad Dog hot sauce)
2 tablespoons Butter
3 tablespoons all-purpose flour
1½ cups Chicken broth
Freshly ground black pepper
3 teaspoons Thyme leaves
1 cup fresh bread crumbs
Preparation
Preheat the oven to 400ºF. Spray a 2-quart baking dish with vegetable cooking spray.
Place the shallots (in their skins) on a small baking dish and roast until soft, about 30 minutes. When cool enough, skin and coarsely chop the shallots. Place in the prepared baking dish.
Heat a large saucepan of water to a boil over high heat. Add the green beans, and cook, uncovered for about 3 minutes (until bright green). Drain the beans in a colander, rinse, and then transfer to the baking dish.
In the same saucepan, heat the oil over medium heat. Add the mushrooms, season with about a teaspoon of salt. Cook, stirring occasionally, for about 7 minutes - until browned and then remove from the heat. Add the mushrooms to the baking dish.
In the same saucepan, melt the butter over medium heat. Add the flour and cook, stirring frequently for about 2 minutes. Whisk in the broth, increase the heat to high, and bring to a boil. Add Mad Dog Reaper Sriracha Hot Sauce, the shallots, and season with salt and pepper, to taste. Reduce the heat to maintain a simmer and cook until thickened, stirring occasionally about 5 minutes. Pour the sauce over the vegetables and stir to combine evenly.
Transfer the vegetable mixture to the pan. Mix the thyme with the bread crumbs and scatter over the vegetables. Bake uncovered until the sauce bubbles and the crumbs brown, about 20 minutes.