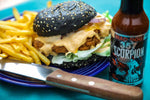 This recipe is proof that Mad Dog makes everything better.
Whether you've got a couple of frozen chicken sandwich portions in the freezer or you're prepared to batter, bread and fry fresh chicken breasts, this is the sauce you'll want all over it.

It's deadly easy and deadly hot and, even though it's made with the stuff nightmares are made of, you'll begin dreaming of it daily.
Thankfully, this recipe makes enough sauce for these 4 chicken sandwiches and plenty more besides

Serves: 4
For the sweet and spicy chili sauce you'll need:
2 tablespoons cornstarch
1 cup of water
1-3 teaspoons Mad Dog 357 Scorpion Hot Sauce
3 cloves minced garlic
2/3 cup sugar
1/3 cup rice vinegar
2 teaspoons salt
4 tablespoons mayonnaise

For the sandwiches, you'll need:
4 hamburger rolls, split
4 buttermilk-breaded chicken breast sandwiches
Lettuce, cheese slices, sliced tomatoes and onions
Preparation
To make the sweet and spicy chili sauce, mix the cornstarch with 2 tablespoons of water and combine. In a saucepan, heat the Mad Dog 357 Scorpion Hot Sauce with the remaining ingredients over medium heat until the sauce boils. Reduce the heat to low and simmer for about 4 minutes, then stir in the cornstarch mixture and cook until thick, about 1 minute longer. Stir in the mayonnaise and set aside.

Meanwhile, assemble your chicken burgers with your favorite toppings, spoon over the sweet and spicy chili sauce and serve hot. The remainder of the sauce will keep for a week or two, sealed in the fridge. But, we can almost promise that you'll devour it long before then.