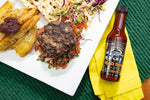 Mad Dog Silver Heat Greek Bifteki

Feta stuffed beef patties?
Super hot sauce heat?
You want these Greek burgers now!


These feta-stuffed bifteki burgers are made for Greek tapas platters, not for stuffing into buns. But, however you decide to eat these Silver Hot Sauce laced patties, you'll love how they melt in your mouth… as they melt your mouth. It's the creamy cheese mixed with plenty of heat.

Careful, you may just find yourself piling plates with salsa, hummus, tapenade, pitas and plenty of these Mad Dog Silver Heat Greek Bifteki burgers every weekend. How could you not?
Serves: 4
You'll need:
1½ pounds ground beef
¼-½ teaspoon Mad Dog 357 Silver Edition Hot Sauce
1 tablespoon plain yogurt
2 teaspoons fresh thyme leaves
salt, to taste
4 ounces feta cheese
olive oil, for brushing
preheated grill
Preparation
Combine the beef with the Mad Dog 357 Silver Edition Hot Sauce, yogurt, thyme, and salt in a mixing bowl. Divide mixture into 8 patties.

Set 4 patties on your work surface, top each with the feta cheese, evenly divided. Top these patties with the remaining patties and press the edges together to seal them firmly.

Brush each patty lightly with oil and place on (or under) the hot grill. Cook for 15-20 minutes, turning once, until the beef is cooked and the cheese has melted.