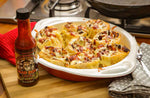 Deadly simple and deadly addictive, these pizza puffs will burn your tongue and keep you coming back for more.

And yeah, they're the kind of thing you can serve up damn near anywhere. Anyone? Well not with our Silver Edition Hot Sauce; this isn't for wimps… and not for kids. But that just means more for you.
And you'll enjoy that.


Serves: 8
You'll need:
several drops Mad Dog 357 Silver Edition Hot Sauce
½ cup BBQ sauce
1 pound Puff pastry sheets, thawed
1½ cups each: shredded mozzarella cheese, shredded cooked chicken
3 slices bacon, cooked and chopped
¼ red onion, diced
Round, oiled baking pan or skillet
oven preheated to 400°F

Preparation

Combine the Mad Dog 357 Silver Edition Hot Sauce with the BBQ sauce and set aside.

Roll out the puff pastry sheets (feel free to dust your work surface with flour first). Spread the Mad Dog Silver BBQ sauce over the pastry, leaving a small border (½") all the way around. Sprinkle about a cup of the cheese, along with the chicken, bacon and onion evenly across the sheets.

Roll the pastry into cylinders, beginning at the long edge, tightening as you go and pinching the seams together at the end. Cut into 8 slices and place in the pan. Cook for 25-30 minutes, then sprinkle on the remaining cheese (and perhaps a little more Mad Dog) and cook until the cheese is melted (about 5 minutes). Serve hot.