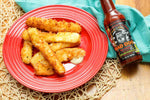 Fried cheese?
It's near the top of the foodie list for most people. If you're one of them, you'll flip for how easy this recipe is. Better yet, we've melted the heat of our Mad Dog 357 Silver Edition Hot Sauce right into the middle of all this melty cheesy goodness.


Oh yeah, did we mention you can be snacking on these in a matter of minutes?
Serves: 4
You'll need:
1-2 drops Mad Dog 357 Silver Edition Hot Sauce
1 egg
2 tbsp. water
½ cup all-purpose flour
¾ cup panko bread crumbs
2 cup oil, for deep frying
8 oz. mozzarella cheese sticks
Preparation
Heat the oil in a wok or a large heavy-bottomed saucepan over medium-high heat.

Meanwhile, combine the Mad Dog 357 Silver Edition Hot Sauce with the egg and water in a small bowl. Beat well and set aside. Sift the flour into a second bowl. Add the panko bread crumbs to a third.

Working with one mozzarella stick at a time, coat it with flour, then dip it into the Mad Dog egg mixture. Coat with the panko breadcrumbs and gently ease it into the hot oil. Fry for about 30 seconds, then remove from the pan, allowing excess oil to drain off before serving.