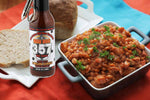 Here is a  classic summer dish, we absolutely recognize that there's no hard and fast rules for making baked beans.
This is the style we love – plenty of meat to accompany the beans and, more importantly, a healthy dose of Mad Dog 357 Silver Edition Hot Sauce to take it to the heights this dish can achieve.
Now, we know that summers plays host to this recipe because it's just so perfect for BBQs and picnics, but we suggest you save some of the 10 servings to eat with breakfast – the way the English do.
Just think of this with poached eggs and toast... it's as incredible as it sounds.
Ingredients
4 slices bacon, diced
1 small Onion, diced
2 cloves Garlic, minced
2 each Bratwurst sausages, roughly chopped (or your favorite sausages for another flavor)
2 cans (16 oz.) Navy beans, partially drained
¼ teaspoons Mad Dog 357 Silver Edition Hot Sauce, more if desired
1 tablespoon Worcestershire sauce
>¼ cup Molasses
¼ cup Brown sugar
¼ cup Ketchup
1 teaspoon Mustard
Preparation

Preheat your oven to 350º F.
Add the bacon and onion to a Dutch oven or another stove and oven-safe pot. Cook over medium-high heat until the bacon begins to crisp. Add the garlic and sausages and cover with the melted bacon fat. Pour in the navy beans. Cook for 10-15 minutes until the beans begin to soften.
Stir in the Mad Dog 357 Silver Edition Hot Sauce, along with the Worcestershire sauce, molasses, sugar, ketchup, and mustard. Stir to combine. Place in oven and bake 45-50 minutes. Serve hot with more Mad Dog on the table.