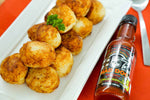 These aren't your mama's croquettes. We promise.
They're blazing with the heat of Mad Dog Silver Collector's Edition Hot Sauce. What more could you want than some leftover mashed potatoes mixed with Mad Dog? We don't know either. These will make about 12 croquettes, which is enough for a few people for breakfast, lunch, dinner... you name it. And you won't be sorry.
In fact, you'll make more mash at Christmas just so you can have 'em.
Ingredients
 ½ a teaspoon 357 Mad Dog Silver Collector's Edition
3 cups Mashed potatoes
1 large Egg, beaten
1 teaspoon Parsley, chopped
¼ cup Bread crumbs
½ Onion, chopped
Flour, for dredging
Oil, for frying
Preparation
 In a medium bowl with a fork combine well-mashed potatoes, 357 Mad Dog Silver Collector's Edition with the mashed potatoes, egg, parsley, and onion. Taking about a quarter cup at a time of the mixture, form into a ball shape, then dredge in flour.
In a large pan, heat 2-3 tablespoons of oil over medium heat, then add croquettes a few at a time turning as they brown. Place on a plate lined with paper towels. Serve immediately.