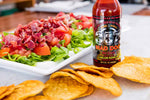 We love Mad Dog with everything, and we'd be happy to sprinkle it on an ordinary BLT sandwich.
(Wouldn't you?) But sometimes you need to go the extra mile. If you've got the crew coming around to watch some football (or, insert your favorite sport here), you'll need to do a little more than place a bottle of our Silver Collector's Edition on the table.
Fortunately, this dip can be mixed quickly – and it looks divine until everyone realizes just how good it really is.


Ingredients

½ teaspoon Mad Dog 357 Silver Collector's Edition Hot Sauce
2 cups Sour cream
½ cup Mayonnaise
1 teaspoon Onion powder
1 teaspoon Garlic salt
2 romaine lettuce hearts, finely chopped
2 Roma tomatoes, chopped
1 cups Bacon, cooked and chopped
2 Green onions, sliced

Preparation

In a small bowl, combine the Mad Dog 357 Silver Collector's Edition Hot Sauce with the sour cream, mayo, and spices. Mix well and then spread onto a serving platter. Top with the chopped lettuce, tomatoes, bacon, and green onions. Serve it up with crackers, chips, or veggies.