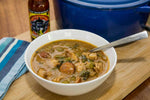 This Gumbo recipe does take some time, but few stews will garner you as many compliments. Seriously.
And with the Mad Dog kick, you won't be able to resist making this all winter long.
Although the roux takes plenty of time (be prepared to spend about 20 minutes stirring that roux constantly - might we suggest pouring a glass of wine first?), the second part of the recipe moves very quickly. You'd be wise to you make sure everything is chopped and prepared in advance. Also, you can toss in a teaspoon or so of File powder at the end (with the parsley) if you're attached to it, but there's no need to run out to the store for it.
The roux does its job nicely.
Ingredients
1 cup of Vegetable oil
1 cup Flour
1 cup Celery, chopped
1 cup Onions, chopped
1 cup Green bell peppers, chopped
1 pound Chorizo, cut crosswise into 1/2 inch slices
1 teaspoon Mad Dog 357 Hot Sauce (or a 1/2 teaspoon if you're still working on your tolerance)
1 1/2 teaspoons salt
3 each Bay leaves
6 cups Water
1 pound Chicken breast (or thighs, if preferred), cut into chunks
1 teaspoon Rustic Rub (or a blend of Louisiana spices)
2 tablespoons Parsley, chopped
1/2 cup Green onions, chopped
Preparation
In a large cast-iron pot or Dutch oven, heat the oil and the flour together over medium heat. Stir this mixture slowly - and constantly for about 20 minutes until it's the color of chocolate. (Imagine darker milk chocolate, but not dark chocolate.)
Add the celery, onions, and bell peppers and continue to stir for about five minutes, until wilted. Add the sausage, Mad Dog 357 Hot Sauce, salt, and bay leaves; stir for another five minutes. Then, add the water and stir until well combined. Bring to a boil, and then reduce heat to medium-low. Cook, uncovered, occasionally stirring, for one hour.
Season the chicken with the rub and add to the pot. Simmer for another two hours. Then, remove from the heat, stir in the parsley and green onions. Remove the bay leaves and serve.