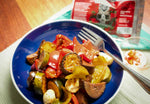 It's true that Mad Dog and meat go well together.
But you can say that about Mad Dog and just about anything. And, we really don't want to disappoint our vegetarian fans. This is just the sort of dish that you're going to love whether you're an omnivore or not. The pepper pod adds plenty of heat in a short time, so be careful! In case you're wondering.
This recipe serves 4 as a main dish, for 6 as a vegetable side.


Ingredients
6 tablespoons Olive oil
½ each Mad Dog Reaper Pepper Pod, cut into pieces
2 each Eggplants
5 each Roma tomatoes, quartered
2 each Red bell peppers, cut into large pieces
1 each Green bell pepper, cut into large pieces
2 each Zucchini, cut into chunks
12 each Baby bocconcini
¼-½ cup Olives, pitted
1 clove Garlic, minced
3 teaspoons Capers (drained)
½ teaspoon Sugar
2 tablespoons Balsamic vinegar

Pre-heat a frying pan (or wok) and add 1 tablespoon of oil when it's hot. Add the Mad Dog Reaper Pepper Pod to the pan. Stir to coat with the oil, then add the vegetables to the pan and cook for 2 to 3 minutes until marked and golden. You will probably need to do this in batches, adding more oil as needed. Remove from the heat and place into a bowl along with the remaining ingredients. Toss all these ingredients together until well mixed and coated.
Serve divided between bowls and enjoy.