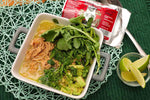 Caldo is the Spanish word for broth or soup.
And there may be no better way to enjoy a bowl of soup – or leftover carnitas – than this recipe right here. It's unbelievably delicious and super easy to pull together – as long as you've prepared some carnitas in advance. (We've got you covered there; check out this recipe – it'll give you double heat in the best possible way.)

This recipe serves 4, though you might be able to squeeze 6 out of it if you have extra carnitas to add to the pot.

And, while you may be tempted to skimp on the greens or skip them altogether, we urge you not to- they really do make an incredible difference to the final flavor.
They're almost as necessary as the Mad Dog 357 Reaper Pepper Pod… almost.


Ingredients
2 teaspoons Olive oil
½-1 Mad Dog 357 Reaper Pepper Pod, chopped
1 Onion, sliced
4 cloves Garlic, minced
3 cups Pork carnitas, cooked
4 cups Chicken broth
Salt and pepper, to taste
1 Avocado, sliced
½ cup Fresh cilantro, roughly chopped
2 cups Fresh arugula, torn
Lime wedges, for serving

Preparation
Heat the oil in a large pot over medium-high heat. Add the Mad Dog 357 Reaper Pepper Pod along with the onion and cook, stirring frequently, for 5-6 minutes, until the onion is mostly translucent. Add the garlic and cook for another minute.

Add the carnitas along with the broth, then reduce the heat to medium-low, cover the pot and simmer for 30 minutes. Season to taste, then ladle into bowls along with the sliced avo. Then top with cilantro and arugula and serve with limes on the side.