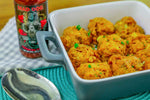 Need a simple dish that guests can't get enough of at your Super Bowl party?
We've got just the thing. No really. It's meaty. It's cheesy. And it's deliciously hot as hell. Plus, it's a little more than bite-size, so you can expect everyone to give these a try. (We, of course, recommend reminding kids not to try these meatballs.) Depending on the size of the meatballs you make, you'll get about 18 to 20 meatballs from this recipe.
If you and your guests don't flip for this super easy Super Bowl recipe, we just don't know...
Ingredients

2 pounds Pork sausage meat, ground (feel free to choose a spicy sausage)
8 ounces Cream cheese, softened
1 cup Cheddar cheese, shredded
2 tablespoons Mad Dog 357 Reaper Sriracha Sauce
1 cup Ketchup
Preparation

Combine the ground sausage with the cheeses and form into meatballs. Place them into your slow cooker. In another bowl, combine the Mad Dog 357 Reaper Sriracha Sauce with the ketchup and pour over the balls. Cover and cook on high for 3 hours.