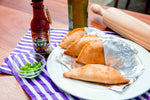 Empanadas are traditionally fried street food native to Spanish speaking countries.
And, they are unbelievably marvelous. We thought we'd bring you an empanada with a Mad Dog bite like nothing you've ever tasted before. We used our Mad Dog Silver Collector's Edition hot sauce to create these, but the recipe is very forgiving – just use your favorite Mad Dog in its place. And, we baked these rather than frying them; that's just a little easier on the home chef. What are you waiting for? Crack open a fresh beer and get cooking!
This recipe will feed between 8-12, so you should have plenty to share.
Ingredients
For the Mad Dog Filling
1 teaspoon Oil
1 pound Ground beef
½ pound Ground pork
1 medium Onion, finely chopped
1 medium green bell pepper, finely chopped
½ cup Celery, finely chopped
1½ teaspoons Salt
2 cloves Garlic, minced
1 tablespoon Flour, dissolved in a few teaspoons of water
1 teaspoon Mad Dog Silver Collector's Edition
¼ cup Green onion, thinly sliced
For the Pastry
3 cups Flour
1½ teaspoons Salt
1 teaspoon Baking powder
6 tablespoons Butter
1 large Egg
3/4 cup Milk
Water, for sealing the pastry (if needed)
Vegetable oil, for basting
Preparation
To prepare the filling, heat the oil in a large frying pan over medium heat. Add the beef and pork. Cook, stirring occasionally until browned. Add the onion, green bell pepper, celery, and salt. Cook for about 10 minutes until the vegetables are nicely wilted. Add the minced garlic and cook, stirring continuously for about 30 seconds. Then, stir in the flour and water mixture plus the Mad Dog Silver Collector's Edition hot sauce. Allow the mixture to thicken and remove from the heat. Add in the green onions and set the pan aside so the mixture can cool.
Meanwhile, prepare your pastry. You can combine one package of puff pastry with one package of short crust pastry (of roughly even weight) if you want to save a bit of time. Or, you can use the slightly more authentic recipe provided here.
Sift together the flour, salt and baking powder in a large mixing bowl. Then cut in the butter, crumbling it between your fingers until it has the texture of the coarse meal. This can take some time, so be sure to grab a swig of beer before you get going. But, you really don't want to miss this step; it makes all the difference to (any) pastry. Then mix in the egg and milk and work into a soft dough. Add more flour if you need to get the right consistency.
Preheat your oven to 400ºF and grab a baking tray to have at the ready.
Roll out the pastry and cut into rounds. You can use a small bowl or anything else with the right size circle as a guide. To create your empanadas, scoop spoonfuls of the filling into each pastry round, keeping the edges free. (You only need to cover about half of the round, excluding the edges.) Fold over the dough to create a half-circle shape and crimp the edges closed. You may need to wet your fingertips with water to keep the edges sealed shut. Lay the empanadas on a baking tray and brush both sides of each with a little oil. Bake the empanadas for about 15 minutes on each side, until the pastry is golden and crisp. Serve wrapped in tin foil or with a bit of your favorite dipping sauce.