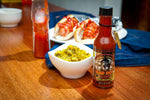 You can always add a drop or two of Mad Dog 357  hot sauces to a prepared jar of relish.
Not only do you get a chance to control the heat levels, but you can also taste the remarkable freshness of the cucumber. We'd go so far as to say you shouldn't celebrate a 4th of July cookout without this on offer.
It's that good.
Ingredients
1 large English hothouse cucumber (about 1 pound), finely chopped
1 teaspoon Kosher salt
1 tablespoon Vegetable oil
2 teaspoons yellow mustard seeds
1 teaspoon ground turmeric
¼ - ½ teaspoon Mad Dog 357 Collector's Silver Edition Hot Sauce
⅓ cup Rice vinegar
2 tablespoons Sugar
Preparation
Place the chopped cucumber in a fine-mesh sieve over a medium bowl and toss with the salt. Allow cucumbers to drain for 10 minutes.
Meanwhile, heat the oil in a medium saucepan over medium heat. Add the mustard seeds to the pan and cook for about 1 minute (until they just begin to pop). Add the turmeric and stir until well combined with the mustard seeds. Then, add the Mad Dog Collector's Silver Edition Hot Sauce and the remaining ingredients and cook for 5 minutes. Remove from the heat, stir in the drained cucumber, and mix well. Transfer to a bowl and allow to cool. Stored in the fridge, this relish will last just over a week.