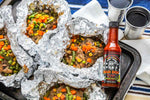 This is the easiest way to cook over a campfire.
Just throw a bunch of meat and veggies into foil, top with some ultra-fiery Mad Dog hot sauce, wrap, and you're done. Well, except for the cooking part. Even that's easy; you just need to set these packs on a grid over a fire and wait for them to cook through.
How very simple is that?
This recipe makes enough for 4 people, and you may as well double the batch straight away; these freeze well, and they can even go into the oven for a quick and easy weeknight dinner when you've completely forgotten to plan something.
But, of course, the best time and place is on that camping trip you've been waiting for all summer. Just give it a try; you'll see!
Ingredients
1½ pounds Ground beef
2 tablespoons taco seasoning
a few drops of Mad Dog 357 Silver Collector's Edition Hot Sauce
2-3 cups frozen mixed veggies
Salt and pepper, to taste
Preparation
Tear 4 long pieces of heavy-duty foil from the roll and set aside. Heat your grill or light your fire and place a grid above it.
In a mixing bowl, combine the ground beef with the taco seasoning. Mix well, then form into 4 patties (round, oblong, whatever suits you best).
Place each patty onto its own piece of foil (shiny side up).  Sprinkle a few drops of Mad Dog 357 Silver Collector's Edition Hot Sauce onto each patty. (How much depends totally on your tolerance!)
Divide the frozen veggies between the packs, then fold the sides of foil up and over each other to close.
Cook over the fire for 30-40 minutes, until the meat is fork-tender. Serve hot in the foil.
TIP: You can make these packs in advance and store them in the freezer until needed. It's best to let them thaw somewhat before placing on a hot fire. And, you should expect a slightly longer cooking time.