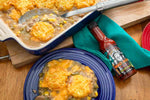 This is the kind of comfort food you want on a late winter's evening.
It's got all things that are good, and it's filled with the frightening fire of Mad Dog 357 Silver Edition Hot Sauce.
You'll scream. You'll shout. And then you'll dive back in for more. And, when you've got leftovers, you'll repeat the entire experience again tomorrow.
Can we get a hell yeah?
Serves: 8
You'll need:
1 pound ground beef
½ onion, diced
½ teaspoon each: garlic powder, salt, pepper
2 teaspoons Worcestershire sauce
½-1 teaspoon Mad Dog 357 Silver Edition Hot Sauce
¼ cup sour cream
1 can each: condensed cheddar cheese soup, condensed cream of mushroom soup, corn (drained), green beans (drained)
2 cups shredded cheddar cheese
1 package (32 oz) frozen tater tots
oven, preheated to 350°F
9"x13" baking dish, greased
Preparation
Add the beef, onion, garlic powder, spices, and Worcestershire sauce to a large skillet. Cook over medium heat until the beef is browned. Remove from the heat and stir in the Mad Dog 357 Silver Edition Hot Sauce, sour cream, and canned ingredients, along with ½ the cheese.
Spread this mixture into the greased baking dish. Top with the tater tots. Place in the oven and bake for 45 minutes. Top with the remaining cheese and bake for an additional 5 minutes. Serve hot with your favorite Mad Dog hot sauce on the side.