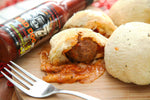 Hell ya, you're going to be addicted in no time.
Wrapped in pastry, the punch of the Mad Dog goes ever so well with the cheesy, meaty insides. And, these tempting delights take just minutes to prepare; you'll feel satisfied almost immediately. Sound tempting? Just wait until you get your own taste.
Enjoy!
Ingredients
1 package Puff pastry
8 each Italian-style meatballs, cooked
½ - 1 teaspoon Mad Dog 357 Silver Collector's Edition Hot Sauce
1 cup Marinara sauce
1 cup Mozzarella cheese, shredded
4 tablespoons butter, melted
2 cloves Garlic, minced
½ teaspoon Italian seasoning
Pinch of salt
Preparation
Preheat your oven to 350°F. Line a baking sheet with baking paper and set aside. In a small bowl combine Mad Dog 357 Silver Collector's Edition Hot Sauce with the marinara sauce; set aside.
Roll out the pastry and cut into 4" rounds. Place a meatball on each round and top with 2 tablespoons of the Mad Dog Marinara. Sprinkle over 2 tablespoons of cheese. Wrap the edges to close and seal.
Place each bomb, seam-side down, on the baking sheet. Continue with the remaining bombs.
In a small bowl, combine the butter, garlic, Italian seasoning, and salt. Evenly spoon over each bomb. Place baking sheet in the oven and bake for 18-20 minutes