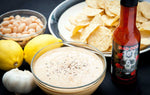 We love this classic Asian dip with chips – or just about anything else.
It's super easy to whip up (it should be ready in less than five minutes) and there's a good chance you've got all the ingredients in your kitchen already. That makes this yummy snack even easier. Don't have any Cannellini beans in your cupboard? No worries – any white bean will work. 
Or try another type of bean for a totally different flavor.
Ingredients 
2 teaspoons Mad Dog Reaper Sriracha Hot Sauce
15 ounce can Cannellini beans, drained
2 tablespoons Olive oil
2 tablespoons Soy sauce
1 clove Garlic, minced
juice of 1 Lemon, freshly squeezed
Crackers, chips or sliced veggies to serve
Preparation
Add the Mad Dog, beans, oil, soy sauce, garlic, and lemon juice to a food processor or blender. Whiz until smooth. (Add a few drops of water, as necessary, to make a smoother dip.) Serve with crackers, chips or veggies and enjoy. Or, just spread it on slices of toast for a spicy breakfast.