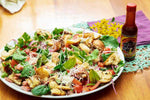 Looking for hotter than hell foods to keep you going all day long?
You've just found the best recipes for every meal!

Is your world returning to normal? Is it time for you to get back on top of your game? Just looking for blazing new ideas for fiery foods to eat all day long? Whatever brought you here, we've picked some of our favorite recipes that'll keep you fueled all day, every day.

Yep, from breakfast to dinner, you'll want to give these winners a try~


Best Breakfasts for Fiery Food Fiends


Whether you believe breakfast is the most important meal of the day, or you only manage to squeeze it in over the weekend, true chili heads will find themselves licking their lips at the thought of these on their morning table:

●    Whip up this Boomslang Breakfast Panini made with Boomslang Hot Sauce in a hurry.

●    Wow a crowd with our Mini Bite-You-Back Bacon and Egg Cups with Tequila Edition Ghost Pepper Hot Sauce.

●    Change things up a little with a Revenge Habanero & Chile Breakfast Pizza crafted with, you guessed it, Revenge Habanero & Chile Extract

●    And, while you might not think of it as a morning food, this Burning Breakfast Burger with Yellow Cake Chili Powder will change your mind at the first bite!

Give Your Lunch a Lift

Whether you work at the office, or you've still got just a corner in your dining room, these fiery foods will power you through the afternoon:

●    Throw together these Super Scorpion Sliders with our Scorpion Hot Sauce to enjoy with others (if you're any good at sharing).  

●    If you need something fried or you can't call it lunch, opt for this Spicy Southern Bird Dog which also features our Scorpion Hot Sauce.
 
●    Ready for something on the healthy side? Give this Scorching BLT Panzanella a go. Every Mad Dog 357 Original Hot Sauce bite is good for you (and your mouth).
 
●    Make a drool-worthy lunch in a hurry with these Roasting Beef and Horseradish Sandwiches, filled with our Inferno Hot Sauce.

Dinner Doesn't End Your Craving for Fiery Foods

And, at the end of the day, when you're hungry and craving even more fire to get through the rest of the evening, it's time to turn to these recipes:

●    Save yourself some clean up with this Cheesy Scorpion Skillet, drenched in the fire of our Scorpion Hot Sauce.

●    Need something super classy that doesn't compromise on heat? Try this Beautifully Blazing Beef Burgundy Filet with our Mad Dog 357 Original Hot Sauce.

●    Try this twist on your classic chicken dinner: Mad Dog Sriracha Lime and Garlic Chicken featuring Reaper Sriracha Hot Sauce.

●    When you've got a bit of time, be sure to try these Super Spicy Sticky Baked Ribs. Each delicious bite will fill you with the heat of our Gold Edition Hot Sauce.  

Looking for something different? Just head over to our recipes, and search for your favorite Mad Dog hot sauce. You're sure to find fiery foods that'll keep you fueled all day long. From breakfast to bedtime, this is how you live life to the hottest.