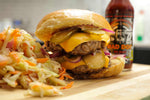 National cheeseburger day is September 18th, and you could serve these babies up just once a year
There's no way you're going to do that once you get a bite. Yes, it's one of the easiest recipes out there, but each burger is so unbelievably perfect that you'll start drooling as soon as you decide to make it.
Maybe weekly.
Ingredients
 a few drops to 1 teaspoon Mad Dog 357 Silver Collector's Edition
⅛ cup Dijon mustard
¼ cup Mayonnaise
1⅓ pounds of Lean ground beef
Salt, to taste
1 tablespoon Sunflower oil
1 teaspoon Butter
8 slices of American cheese
4 each Brioche-style hamburger buns
¼ each Red onion, finely chopped
1 large Dill pickle, thinly sliced
Preparation
Combine the Mad Dog 357 Silver Collector's Edition with the mustard and mayo in a small bowl and set aside.
Divide the beef into 8 balls and flatten into patties. Sprinkle a little salt onto each one.
Heat the oil and butter in a large skillet over high heat. Add the patties and cook until a slight crust forms on the bottom. Flip and cook for another minute before topping each patty with a slice of cheese. Remove from the skillet and set aside, covered with a wok lid to keep the cheese moist and melty.
Spread the insides of the buns with the Mad Dog mustard mayo and toast in the same, hot skillet. When ready, top the bottoms of the buns with two patties and some of the onion and pickle. Replace the top halves of the buns - and serve with more Mad Dog 357 Silver Collector's Edition on the side