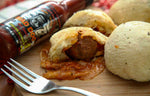 We've got eleven killer meatball recipes that make the most of our Mad Dog 357 Hot Sauces, Peppers, and Extracts.


Badass BBQ Chicken Meatballs: It doesn't always need to be about the beef. We crafted these as an easy game day treat (and these are definitely easy as far as meatballs go) to play nicely with a range of snacks. We think it's the way the BBQ sauce, mango salsa, and the Mad Dog 357 Scorpion Hot Sauce blends with the chicken. What do you think?

Super Spicy Cranberry Meatballs: These aren't turkey meatballs like you might expect to find blended with cranberry sauce. No, these gorgeous little meatballs are made with beef. It's the Mad Dog 357 Naga Morich Pepper Pods that actually do the work of mixing with the sweet tanginess of cranberries. These are great on a buffet of finger foods. Except, of course, you should use a fork.

Revenge Spaghetti and Meatballs: It's a brand new spin on perhaps the most classic pasta recipe of all time. And, you guessed it; we chalk it up to the Mad Dog 357 Revenge Habanero and Pepper Extract. You may as well make a double batch of these babies; you'll want this for dinner every week and you won't find them at your local Italian restaurant.

Spirited Spanish Reaper Meatballs: Made with the bite of our Mad Dog 357 Reaper Pepper Pods, you'll be wondering why you've never made these before. These Spanish meatballs are a little bigger than your normal fare as they're designed as a tapas plate rather than a snack or a full meal on their own. Their size makes them easy to make; their heat makes you want to have them every day.

Biting Bitterballen: This is the Dutch take on meatballs and they're freaking incredible, especially when you add in some Mad Dog 357 Original Hot Sauce. Bitterballen are made with rare roasted beef and require an extra step before frying them. But, you'll be singing their praises as soon as you pop the first one in your mouth.

Meaty Mad Dog Sub Sandwiches: We tucked the Mad Dog 357 Scorpion Hot Sauce into the sauce of these sandwiches so you can still make the meatballs for the kids. That will leave you with extra sauce and you're going to totally want it. Or just buy premade meatballs and make your life that much easier.

Silver Cheesy Meatball Bombs: Meat, cheese, and a sauce filled with the Mad Dog 357 Silver Collector's Edition Hot Sauce. It's like we read your mind, right? And, we packed these inside puff pastry so each fiery bite feels as though it's exploding onto your plate or in your mouth. Hell yeah is all we have to say about that.

Morich Meatball Sandwiches: Few things will sort your craving for super hot chilies the way our Mad Dog 357 Naga Morich Pepper Puree will. That's why we've tucked all the heat inside these meatballs. No really, we crafted these around the puree and then packed them in buns. You can eat these with your hands as long as you don't try picking up the odd bits that fall with your fingers.

Scorching Sriracha Super Bowl Sausage Balls: Sausage meat, two kinds of cheese, and a healthy dose of our Mad Dog 357 Reaper Sriracha Hot Sauce. Was there anything more you need? We didn't think so. You want these. You want these now. And you should order a backup bottle of this sauce straight away.

Reaper Bacon Bourbon Meatballs: We packed it all into these meatballs. Let's see, there's beef, there's bacon, there's Bourbon; and just to be on the safe side, we added in plenty of our Mad Dog 357 Reaper Pepper Puree. Then we rolled it all up and baked these biting meatballs so you can taste each element in every bite.

Scorching Swedish Meatballs: There's nothing like a classic, is there? That's why we've loaded these Swedish meatballs with our Mad Dog 357 Original Hot Sauce. You'll wish they sold this version at Ikea (they don't) because you'll want a freezer full of them every day of the year. Yep, they're that good… and, dare we say hot enough that even the Swedes would stay warm in the middle of winter.


So now? Well, we wouldn't know where to start either.

Just pick one for now and order the sauce you need to make another batch later. It's